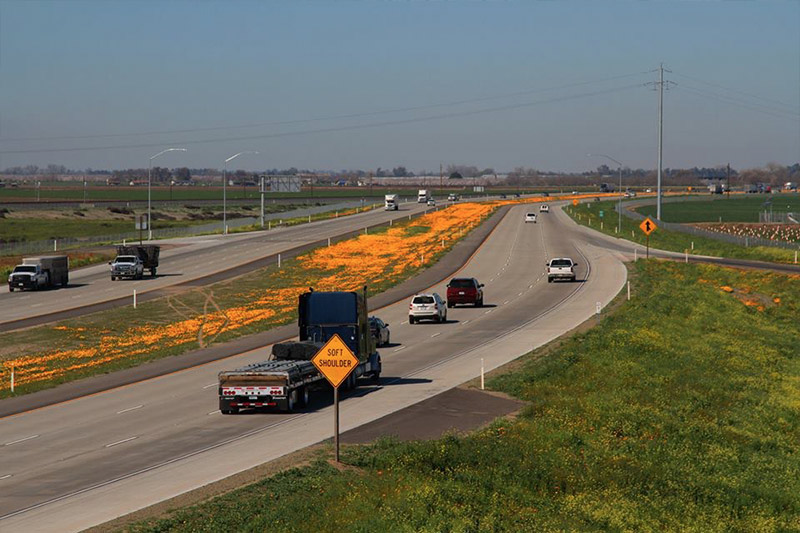 Holder of California State Contractor's License #8, Teichert Construction's fortunes have grown and prospered with those of the Golden State.
The third highway contract ever awarded by the State of California went to Teichert Construction. Using bond money from the State Highway Act of 1909, California hired Teichert to build six miles of highway from Stevens Creek to Milliken's Corner in 1912, from just north of San Jose to Santa Clara. The cost of that project was $54, 294.
Prices have gone up in the intervening century, but Teichert's value to the citizens of the Golden State is as great as ever. We have been partners in emergency work, maintenance and repair work, and "shovel ready" projects during growth cycles. We take pride in being good stewards of our state's natural resources as we do this work, working to prevent storm water runoff and preserve clean air in the course of delivering high quality projects for our fellow citizens' use.
Teichert places a high priority on including disadvantaged businesses in our contracts, and have an active outreach program to identify and engage them in our work. We have been upstanding members of the contracting community for decades: Adolph Teichert Jr. became president of the Associated General Contractors in 1949, reflecting the company's interest in a thriving, growing industry. We recognize that a healthy industry depends on the growth and stability of small businesses in our state, and make every effort to support and include those businesses in our work.
"The 1909 bond issue… ran a highway from the county seat of each county to whatever county adjoined it," explained Henry Teichert at one time. "And that was supposed to be it. Luckily for us, that was just the start."
Contact
Janez Seliskar
Director, Public Estimating
jseliskar@teichert.com
(559) 813-3053
For information about a career with Teichert, click here