By the 1960s, the founding generations of A. Teichert & Son had passed, and the firm was struggling to transform from the small company entrepreneurship that had been inspired and driven originally by Adolph to the large corporate structure managed by the later generations.
In response to his own lack of construction background, Henry Teichert began to develop professional managers from within the company, and he instigated seminars, management retreats and in-house programs ­ all to meet the challenging business environment. Henry set up a management advisory committee of young employees to groom and train future managers.
During this same time he serves as Director of the Northern and Central branches of the Associated General Contractors.
Henry Teichert started the official safety program in 1959. On April 21, 1963 Argonaut Insurance Company presents Henry Teichert with a plaque for the five year lowest ratio of injuries for all its clients.
Materials operations including Del Paso Rock Products, Perkins Gravel Company, and the Tracy Rock and Gravel Company all became known as Teichert Aggregates.
In 1965 ground is broken for the new Perkins rock plant. In 1966 the first batch of rock is produces at this new Plant.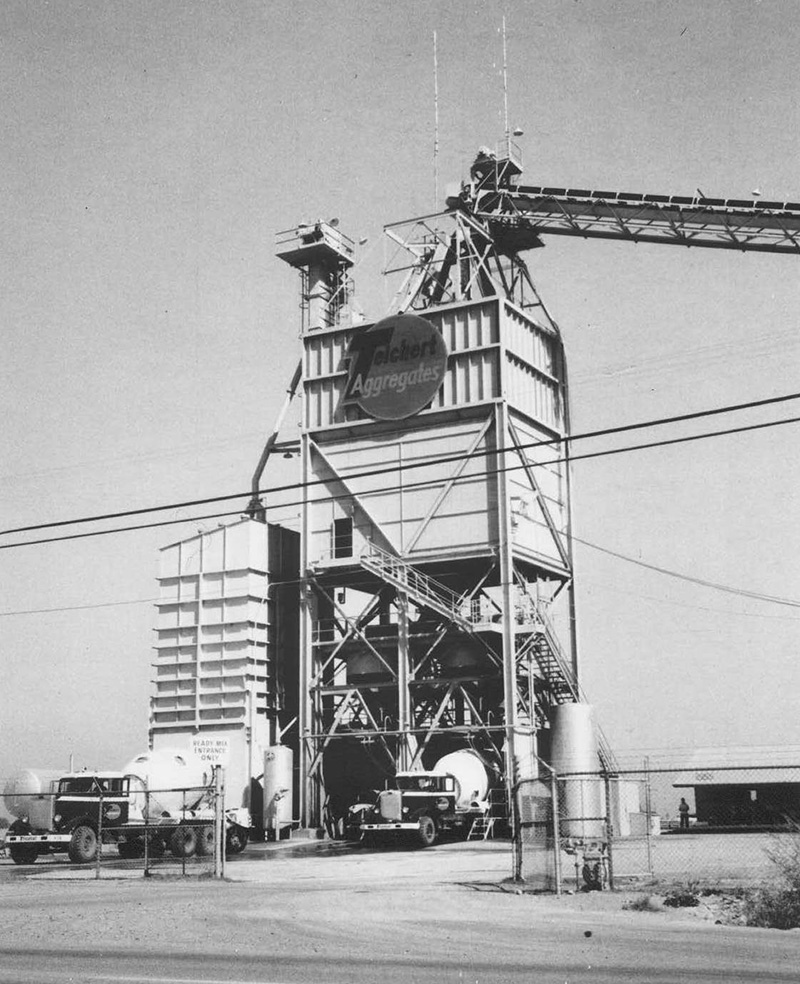 In 1968, A. Teichert & Son, Inc. officially created the Mobile Equipment division ­ which supplies and maintains equipment to the materials and construction operations; the Teichert Land Company ­ a wholly-owned subsidiary that manages and develops Teichert-owned property; and the Construction division ­ with autonomous district offices in Woodland, Stockton and Sacramento.
The aggregate reserves at the Del Paso plant are exhausted, and the plant is disassembled. Ground is broken for the new corporate office on this site at American River Drive in November 1968. This is one of the more widely visible reclamation projects the company has completed. A. Teichert & Son, Inc. moves into its new corporate office.

The 1970s were a time of diversification within Teichert. In 1970 the company formed Teichert Tectonics to merchandize enzymatic products for the construction industry. The Heavy Engineering division is formed to pursue large public works project in 1972. The company's old yard at 37th & R was turned in an ice manufacturing plant in 1974, forming the Teichert Ice Company. This part of the company was later sold.
In 1971 the current blue Teichert logo is adopted. The following year the new "Safety Green" paint scheme is adopted for the company equipment.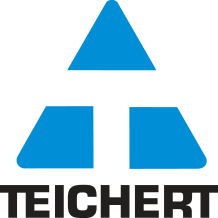 On February 2, 1972 Adolph H. Teichert dies and Lou Riggs follows Henry Teichert as President.
During 1970 to 1974 the company consolidated construction operations and closes district offices located in Los Angeles, Reno and Marysville. Large jobs performed were $7.5M successful bid for Highway 50 from 65th Street to Mayhew Rd., Sacramento and the Interstate 5 Hammer Lane Project in Stockton.
In 1978, the new "hot plant" at Perkins is built.